The Armchair Treasure Hunt Club
Questershire

Although not strictly a club hunt, Shaun Whitehead's Questershire hunts are open only to club members. Club veteran, Shaun funds and set these hunt himself in his home county of... well I'm sure you can guess where!
The first Questerhire hunt was sent out to everyone who sent Shaun an SAE, to arrive through letterboxes on Saturday 25 August 2001. It comprised of a simple set of pictures and brief introduction - that's it. Designed to be solved in short order, the secret was to identify the landmarks in the pictures and triangulate to find a central point between the locations. The dynamic duo Martin Dennett and Deborah Hatton began the hunt when it popped through Deborah's letterbox at 6:37 am. Some brainwork and driving later, they uncovered a token at the base of a tree featured in the hunt at 12:41 pm! For their toil they were awarded a rather grand silver statuette of an eagle - the prize from Flight of Fantasy - a previous Club Hunt which Shaun and his wife Alison had won.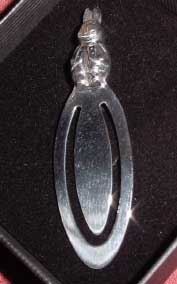 Questershire II offered participants the chance to win a silver bunny bookmark. The hunt hit doormats on Saturday 30 November 2002 and was won again by Martin Dennett and Deborah Hatton the following day.

---
Return to the Club Hunts page or the site contents