The Armchair Treasure Hunt Club
Quest: In Search of the Dragontooth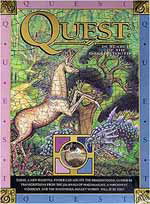 Quest: In Search of the Dragontooth was written and illustrated by artist Michael Green, the author of Unicorns, and published in September 1994 by Running Press. 143pp hardback box-set with map and pendant ISBN 1 56138 413 5 (out of print). Reprinted as Book of the Dragontooth March 1996 by Diane Publishing Co ISBN 0 78819 213 2 (in print) and October 1996 by Running Press ISBN 1 56138 748 7 (out of print)

In the form of illustrated fictitious journals of a sixteenth century travelling monk called Magnalucius, the book was originally boxed with a map and a pendant. By correctly identifying 15 points on Magnalucius' journey and submitting a written answer to the publishers, the Dragontooth prize - a large blackened tusk mounted on a bronze handle - could be claimed.
Time passed without this hunt being solved and the publishers eventually closed it down. Apparently the author is happy to confirm any solutions sent to him by email.
---
Return to the site contents or the list of hunts for the general public.