The Armchair Treasure Hunt Club
Island Treasure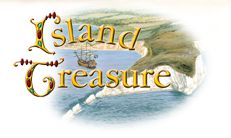 Published in July 1999 with a top prize of £1 000 000, Island Treasure was a time-travel story set on the Isle of Wight with a strong factual and historical storyline. The object was to find thirty pieces of a jigsaw map, hidden on the Internet.
The hunt closed on 31 December 2001 with no winner from the 15 solutions submitted. The original hunt (£6) and solution (extra £4) can be purchased and downloaded from the official website.
After the hunt closed, the final answer and an extra hint were issued (still available on the website) and readers were invited to explain the answer. The author of the best explanation was awarded an original painting of the Titanic. A second prize was awarded to club member Terry Lyndon.
A follow-up to Treasue Island was expected, however the official website at www.island-treasure.com has been empty since 2004.
---
Return to the site contents or the list of hunts for the general public.