The Armchair Treasure Hunt Club
Aureum: A Roman Treasure Hunt

Aureum: A Roman Treasure Hunt was an unusual hunt - in many ways! It was first published April 1998 by Attica Interactive Ltd, as CD-ROM based hunt by club founder and puzzle master Dan James; illustrator and author of Treasure and Helium Dreams.
Aureum offered an new take on the treasure hunt idea in the search for £20,000 worth of Roman Gold. No magic, no wizards - just solve the clues and win the prize.
The treasure hunt was in two parts.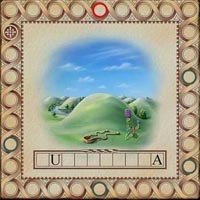 In part one, the challenge was to solve four 'Years'- each a sets of cryptic, picture-based clues on the Aureum CD-ROM. Each set of ten clues offers the chance of winning a gold coin.
Additionally, the first six people to provide a correct answer to the final clue were to join the four stage winners in part two.
In part two, all ten prize-winners were to be invited to take part in the Grand Treasure Hunt during an all-expenses-paid holiday on a Mediterranean island. One of the 10 was to find the hidden casket and £20,000 in Roman gold.
Years I, II were won by club members Shaun Whitehead and Paul Harkin (January 2000). Martin Dennett solved Year III but was not awarded the prize.
Bizarrely, on 12 May 2000, the now-defunct Aureum website (http://www.aureum.net/) announced the withdrawl of the hunt. Publishers Attica Interactive Ltd ruled that the competition had 'been compromised' after 'monitoring entries to the competition and exchanges on the Aureum forum'. All this, apparently, without consultation with author Dan James. The Aureum website forums included the open exchange of solutions and comments which bordered on libel - but rather than edit the comments (which they effectively were responsible for as publishers), Attica chose to invoke rule 22 of the hunt and withdraw it.
An angry Dan has subsequently vowed never to get involved with commercial hunts again. It appears the full story has yet to be told.
Aureum can sometimes be found for sale on internet auction sites.
---
Return to the site contents or the list of hunts for the general public.