The Armchair Treasure Hunt Club
Apple Punch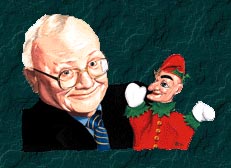 Apple Punch is a delightful treasure hunt, unusually consisting of a story on audio cassette, narrated by the late Sir Harry Seacombe and written by the late Terry Pitts Fenby of The Piper of Dreams fame and was published by the charity, Diabetes UK (formerly the British Diabetic Association) in whose aid the .
The £10 hunt was launched in London in 1998 and tells the story of the famous sea-side character Punchinello, as he travels from Italy across continents; meeting all manner of characters along the way. Somewhere on his travels, Punch hid his treasure, a golden apple, but as time passed he could no longer remember where he hid the treasure. You, the treasure hunter, along with clues from the other Punch and Judy characters, must find where the golden key to Punch's treasure now lies. To help solve the treasure, two extra clues have been published subsequently.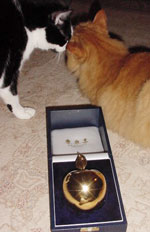 The prize was a unique hand crafted golden apple created by Garrards, the crown jewellers, in 9 carat gold and has a removable leaf brooch, set with a diamond dew drop.
By Easter 2000, only a written answer (a 25 word description of the location of the treasure) was required to claim the prize.
An additional prize of a weekend in the Big Apple, was on offer by completing the next five lines of a limerick beginning "There once was a young man called Punch..." by 15 April 2000.
Due to close on 31 March 2002, Apple Punch was finally solved only days before the deadline by club members, master hunt setters and frequent solvers, Shaun and Alison Whitehead. The apple (pictured left with Shaun and Alison's cats) was presented in London in September 2002.


---
Return to the site contents or the list of hunts for the general public.