Chapter 1
DERBYSHIRE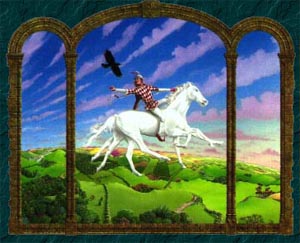 Coin 1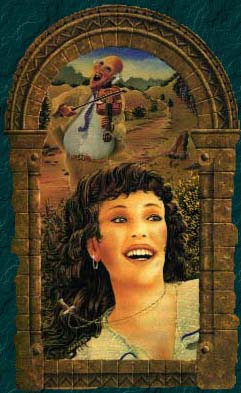 Location : Odin Mine, Near Castleton
Coin : Hidden in the bole of an Oak tree
Number & Letter: O (from Odin's name) & 9 (from 9 sprites)
Winner: Justin Parr - Davies
Here Tallifer meets an old man, who's description matches that of Odin the Norse god,
he says to him:
'Speak my name clear,
Lest the candle ebbs away and leaves but darkness eternal,
This place takes my earliest name,
Yet today six brothers have I each a measured moment marking time,
Think quickly now for time is of the essence....'
This is a clue to the 7 days of the week. In the text it says that it is Wednesday, this day was named after the Norse god Odin, again confirming that the man is indeed Odin, who gives to tallifer his pet raven Munin, to aid him in his progress throughout the book. Tallifer first wakes up beneath an Oak tree and here is where the fist gold coin was hidden.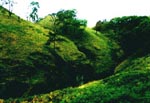 OS Grid Ref: 134 835
Coin 2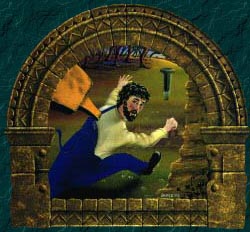 Location : Nine Ladies Stone Circle, Stanton Moor
Coin : Hidden at the base of the tree nearest to the stone
Number & Letter: Y (from the stone the mason carved on) & 3 (also from stone)
Winner: Justin Parr - Davies
The place Tallifer heads for on the horse 'Slepnir' is the Nine ladies stone circle. Here he meets nine sprites and a fiddler, these are based on local folklore about the stones being ladies who were turned into stone for dancing on the Sabbath. Tallifer heads off over the nearby stile and meets a stonemason chiselling on a stone. This stone can be found on the same moor by following the path that Tallifer takes. It has carved on it the letter Y and the date 1826. However it says in the text that the stonemason had made a mistake and was incorrect by 10 years, so the correct date would have been 1836, thereby giving the number as 3. It also says that Tallifer had flown over these clues at least six times on his path here, if only he had looked down he would have seen them. This refers to the river WYE (pronounced Y and it being 3 letters long ).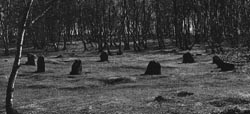 OS Grid Ref: 249 653
Coin 3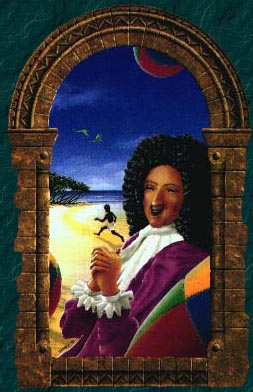 Location : Daniel Defoe Spring, Quarndon
Coin : Hidden under some Ivy on a crenelated wall
Number & Letter: E (from AEIOU) & 2 (It's position in AEIOU)
Winner: Angus Walker
Tallifer appears on an island and meets a strange man (Daniel Defoe). The description and picture of which match him closely. Daniel says to Tallifer that the place they were in is mentioned in a well known 18th century publication. This is Robinson Crusoe, in the text is mentions 'it was just another day'. This is Man FRIDAY, who can also be seen in the illustration. The riddle spells out the name of the village by using titles of Daniel Defoe's books. However, certain words have been changed in the title. If we take the bold letters and replace them with the correct letters, we get:
Two great Mysteries considered = Two great questions considered,
A journal of the plague wasp = A journal of the plague year,
No man has tasted differing fortunes more,
A tour through the whole safari of Great Britain = A tour through the whole island of Great Britain,
And thirteen times I have been rich and poor,
A true snug Englishman = A true born Englishman.
The incorrect letters spell out MY SPRING and the correct letters spell out QUARNDON.
The letter and number can be found by using both words and noting the missing vowel from both (E) and using the saying AEIOU, where E is the second vowel.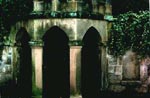 OS Grid Ref: 334 408
Coin 4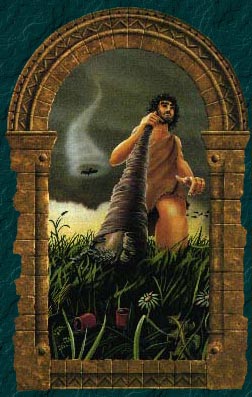 Location : Yew Tree, Darley Dale
Coin : Hidden in crack in the second step of horse mounting steps
Number & Letter: A (from Taxus) & 5 (from letters of Taxus)
Winner: Martin Dennett
This location can be found by understanding what the ancient Britons left at the site where Tallifer disappears from. The clue describes something that would have been there at the beginning of time itself, or the year 1 AD. In AD 43 the Romans invaded Britain, which it suggests that Tallifer arrived at that spot at that time too. The Ancient Britons left something to remember their 'God Man; by, this is the large Yew tree inside the churchyard, which is clearly a 'sacred spot'. Yew trees are hinted at by 'plum, princely & stinking', these are all varieties of yew trees, the illustration shows a berry from a yew also. The letter and number come from the Latin (foreign) for yew - 'it was his duty (Tax) to us' = Taxus.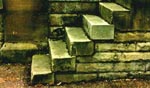 OS Grid Ref 267 630
Coin 5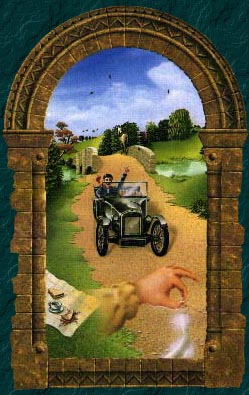 Location : Cromford Bridge, Cromford
Coin : Near Open Archway, opposite Arkwright's Mill, in crack in bank of canal
Number & Letter: C (from Richard) & 7 (Letters in Richard)
Winner: Robert Read
Tallifer meets a man called Brian near a bridge, featured in the illustration. As they are speaking a an Austin 7 car goes past, these were introduced in 1922. Brian says that he's been there for 220 odd years, if we take this from 1922 we get a new date of 1697. In the illustration we can see a dark brick on the wall of the bridge. On Cromford Bridge is a stone recording the 'Leap of Mr B. H. Mare June 1697'. Local legend has it that he leapt from his horse over the bridge and into the water. Brian calls Tallifer 'Lutestring', this is a woven cloth, also in this area is Sir Richard Arkwright's Mill. If we look at the verse we can see several types of cloth hidden thus:
My fist is the fourth madam asking a friend, A
My second an acre pea green, R
My third is the last fossil kept till the end, K
My fourth is the second that weeds the terrine, W
My fifth is the third briar raspberry red, R
My sixth is the second in line near the throne, I
My seventh the first aging hamlet that wed, G
My eighth is the last in a crashing tritone, H
My last is the third Scot to navigate north, T
So work out my riddle and bring the name forth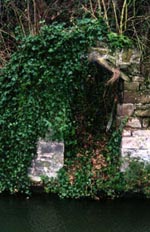 OS Grid Ref 300 572
Coin 6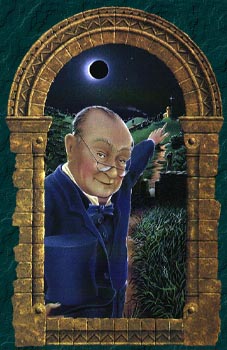 Location : Footpath, Tissington
Coin : Base of signpost pictured in illustration
Number & Letter: M (from Flamsteed) & 3 (From Day Flamsteed was born)
Winner: Richard Gilbert
In this location Tallifer meets a Frenchman called 'Francois Felix ...er, and'. His full name is Francois Felix Tisserand, the famous French astronomer who wrote a well known star catalogue. When the missing part of his surname is revealed (TISS), the location becomes clear as TISSington. The riddle he provides to Tallifer hints that his surname is required as he says 'With a little increasing effort it was simple'. So with increasing steps the word SURNAME can be seen.
Something I have,
Outlasting the climb,
Through life's journey long,
And not aged by time,
A great Christian Partner,
Which many would say,
Passed ever onward, yet owned for always.
Then he tells Tallifer, ' head for my star' (an anagram of St Mary - the church at Tissington). If we locate this on a map and follow the instructions from there. 'When you get there , climb the stairs and look south. Not far off you will see a church spire (Fenny Bentley) and another beyond it (Ashbourne).Head for the second, and look east. In the distance you will see yet another spire (Denby), Discover who was born there 199 years before I was born, (John Flamsteed) the fourth letter of their surname will help you. Then take the second number from the day on which I was born.
OS Grid Ref 172 526
Coin 7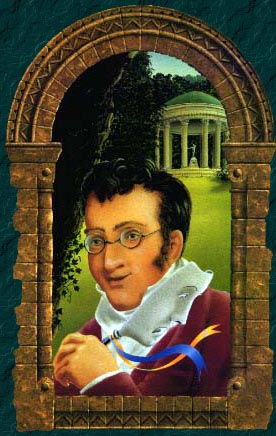 Location : Pavilion Gardens, Buxton
Coin : At the base of a standing stone (with a hole through it) in the gardens
Number & Letter: S (from Thomas) & 4 (From Fowell)
Winner: Micah Duckworth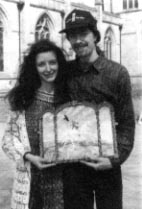 At this location Tallifer is greeted by a happy musician, who turns out to be Thomas Fowell Buxton who helped abolish slavery (servitude). The illustration matches his portrait closely. The unhappy musician gives the first clues;
'The pipe player was born a fool (Buxton was born on April 1st), and is but a chicken at heart (His middle name is Fowell, which sounds like Fowl).
Thomas gives more clues by saying to Tallifer;
'Servitude has brought him nothing but misery. Don't you think it should be abolished?'.
Then he says;
'I think you will know what to do with my last name'
This tells us that the location is Buxton. In the illustration there is pictured a pavilion and in Buxton are the Pavilion Gardens. The text says that Munin passed clean through a rock hinting at the stone with a hole through it was where the coin was hidden.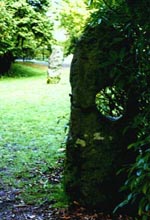 OS Grid Ref 005 734
Coin 8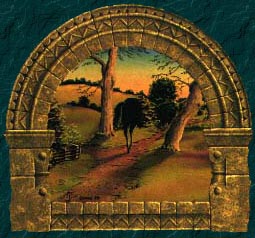 Location : Footpath, Hathersage
Coin : Base of stone pillar on footpath
Number & Letter: R (from Foresters) & 6 (From R's position in Hathersage)
Winner: Angus Walker
Tallifer meets Bonnie Prince Charlie at location 7 and says to Tallifer;
'From the right eye of this place (that means the second I in the word pavilion on the map) head one hundred and twenty five degrees east south-east until you reach a farm under a precipice (Cliff Farm). You will need to follow the path of an instrument of one note (Triangle)'. If we draw a line from the second I in pavilion to Cliff Farm we can then triangulate a third point to make an equilateral triangle. This third point lands on Hathersage Church, the reputed grave of Little John. This Links with the next chapter when Tallifer Meets Robin Hood. The illustration shows a picture of two Ash trees with a path leading between them. This path is found at the back of the church a little way down a footpath. The grave of Little John shows that it is taken care of by the 'Ancient Order of Foresters', (Munin pecks at a letter within the word Foresters) although it isn't 's' there were two (could be either 'r' or 'e' at this point) and one in the name of the village they were in (HatheRsage) where it's position revealed the last number (6).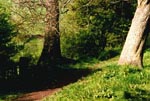 OS Grid Ref 234 819
Derbyshire Lute Key
Location : Dale Abbey
Winner: Micah Duckworth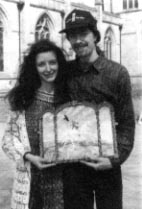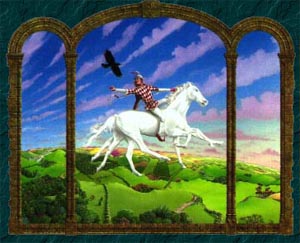 We now have the following sets of letters and numbers:
9 3 2 5 7 3 4 6
O Y E A C M S R
If we re-arrange these letters we can get the word
S Y C A M O R E
4 3 7 5 3 9 6 2
This now gives us an eight figure grid reference that lands on a spot in Derbyshire near the 'Cat & Fiddle' windmill near Ilkeston. The County Lute Key was hidden at the base of a large Sycamore tree.