The Armchair Treasure Hunt Club
The Red Herring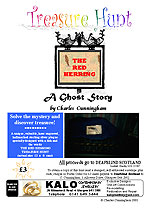 The Red Herring was written by club member Charles Cunningham and published in February 2002. It was sold for £3 for charity - every single penny of the price went to Deafblind Scotland. This charity aims to help deafblind people live as rightful members of their own communities. They provide information, advice, counselling and mutual support. They also arrange holidays, outings and clubs and have a 'Doers' group for more active people to undertake hillwalking, skiing, bowling and lots of other activities.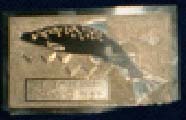 The hunt is a four page story which will leads the solver to the location of a hidden token which, in turn, reveals the whereabouts of a fish and allows the treasure to be claimed. Postal claims were permitted from 31 March 2003.
After five years, and a number of clues, published via this web page and the bulletin board, the hunt was solved by club member Brian Souter on 21 February 2007.
The specially commissioned sterling silver plaque, which Brian claimed, cost a couple of hundred pounds. Sponsorship paid for about a third of this and Charles funded the rest.
The solution is available in PDF (Acrobat Reader or similar is required to read it) here.
For those who have a copy of the hunt, and wish to work through the clues issued by Charles, they are listed below:
Red Herring Extra Clues

The Red Herring author and club member Charles Cunningham released an extra clue for the Red Herring on 1 November 2005.

Click the image to the left to see the clue.

Charles released a further clue on 27 November 2006. Click the image to the left to see the clue.
A further clue was released on 22 January 2007. Click the image to the left to see the clue.
One book
Nine chapters
Charles released some 'pointers' via the bulletin board on 13 February 2007
One book
Nine chapters
Nine paragraphs

The ;pointers' had another added to them on 21 February 2007.
---
Return to the site contents or the list of hunts for the general public.