The Armchair Treasure Hunt Club
Menagerie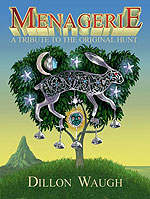 Menagerie began as a taster puzzle published in February 2004 on the web, by club member Dillon Waugh and was solved on 19 April 2004. It was free to enter and the winner received a framed signed print of the main picture in the hunt and received a free advanced copy of the of prints for the full hunt that followed.
Dillon published the ful hunt, a much-anticipated tribute to Kit Williams' Masquerade, in July 2005.
Menagerie takes the form of three illustrations and passages created by Dillon Waugh. The hunt, illustrations, and text intentionally mimic Kit Williams' style and the prize - a jewelled silver hare, is a facsimile of the original golden hare from Masquerade.
The entire hunt was free to download from Dillon's website, but all participent were invited to make a voluntary contribution to Dillon, in return for which further clues would be released a week or two earlier than to the general public.

Club member Paul Harkin announced he had retrieved a map in July 2008, from the Three Shires Stones, at the border of Gloucestershire, Somerset and Wiltshire. The map leads to the final location of the hare.
Dillon has kindly allowed The Armchair Treasure Hunt Club to reproduce the taster hunt here: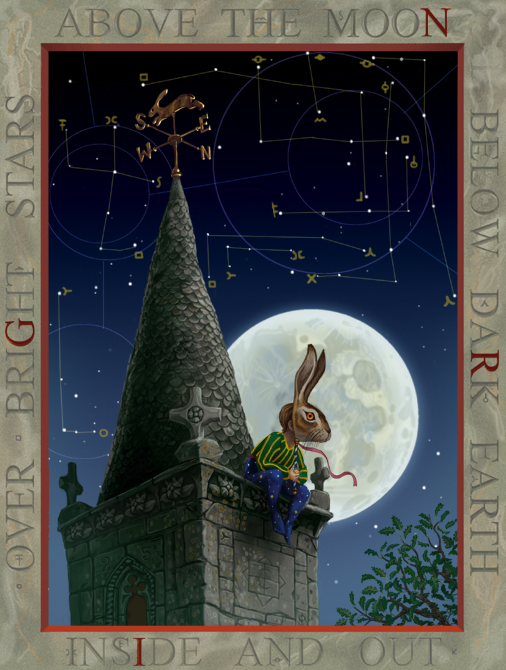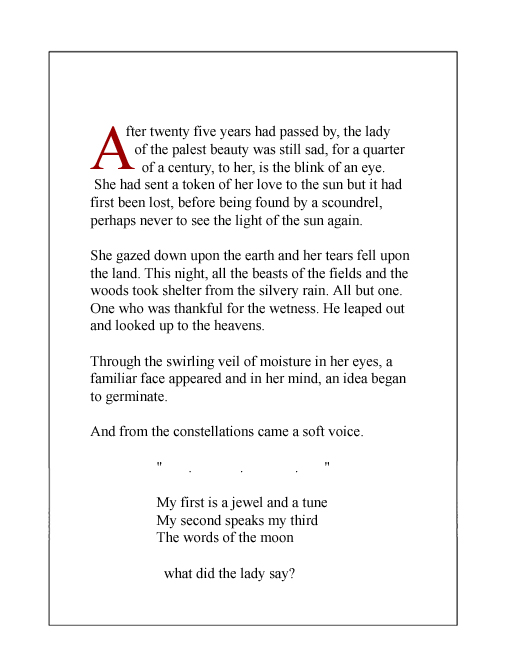 Welcome to the Menagerie. If you dare to enter the twisted mind of Dillon then heed this warning:

THERE IS NO ESCAPE!

Believe it or not, this is the "taster" for the main hunt. But you must be quick as not only will you win a framed signed high quality copy of the fantasic picture depicted above but you will also get a small head start on the main event.

To print the text and picture either right click on them and select "Print Picture" or click on them and they will open up in a new window where you can print them. Alternatively right click and select "Save Picture As" to save your own copy to manipulate at your leisure

You can discuss Menagerie on the Q4T forum.
---
Return to the site contents or the list of hunts for the general public.