The Armchair Treasure Hunt Club
Dragonigma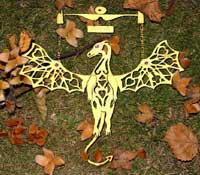 Dragonigma was published in the Autumn of 2002 by The Treasure Hunt Club (who are totally unconnected to us, The Armchair Treasure Hunt Club whose we pages you are currently reading) and was written by The Dragonigma Team.
In the spring of 2002 a Deed of Entitlement was buried under 6 inches of earth somewhere in Great Britain. By registering as a member of the Treasure Hunt Club (unconnected to ATHC) for a one-off fee of £5, members are entitled to download six files (in .zip format) from the website, which combined, contain images of 53 playing cards.
All information and clues leading to the location of the Deed are contained within the cards, The Deed of Entitlement, which cannot be found using metal detectors, details the precise instructions for claiming the Golden Dragon - an item of jewellry fashioned by The Dragonigma Team out of 18-carat gold, measuring 133mm x 105mm. The piece is enriched with five diamonds and four rubies and has been deposited for safe keeping with the Yorkshire Bank
No time limit has been set and the deed will remain buried until found.
The Dragonigma website has full details and Terms and Conditions. The publishers can be contacted at dracoer.two@ntlworld.com
---
Return to the site contents or the list of hunts for the general public.