The Armchair Treasure Hunt Club
September Event 2004 -
Masquerade Silver Anniversary
Autumn Equinox Extravaganza at Ampthill!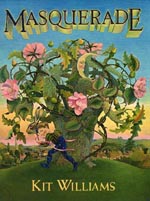 Masquerade began it all. Kit Williams' illustrated book was launched twenty five years ago in September 1989 and marked the start of an armchair challenge to solve his intricate illustrative clues and find the location of a buried casket containing a bejewelled golden hare.
Masquerade sold over a million copies in eleven countries and began the armchair treasure hunting phenomenon.
The leading subscription-based club for armchair treasure hunters was launched by Dan James following the success of his own Masquerade-style challenge, Treasure.
On Sunday 26 September 2004 Club members and non-members assembled in Ampthill, Bedfordshire - a few miles from Milton Keynes. This date was the autumnal equinox. The location and time are significant in the history of armchair hunting's seminal hunt, Kit Williams' Masquerade - published 25 years ago this month and the treasure buried in Ampthill Park - at a spot marked by the shadow cast by Catherine's Cross at noon on the summer equinox.
Shaun and Alison Whitehead devised a devious club event to commemorate Masquerade. Treasure Hunters spent the afternoon assembling a number of pieces of information from the clues provided but quite what to do with the info seemed to elude everyone for a while. Nick Perry was roaming with his camera towards the end, dressed, rather inappropriately with a baseball cap and carrying an opened umbrella. He was happy to photograph groups in any spot but was quite picky about which way they faced - on occasion insisting the photograph was taken into the sun - not the mark of a good photographer. He also only took photos if the group would pose with a picture of Kit William's Masquerade hare.
It eventually dawned on one team that this behaviour was a clue. Indeed whenever a picture was taken, the line between Nick's umbrella and the group intersected a line betweeen organizers Shaun and Alison Whitehead at precisely the spot where the treasure was buried!
For more details of the hunt that started it all, Kit Williams' Masquerade, click here.
For details of Dan James's Treasure click here.
For more details on The Armchair Treasure Hunt, how to join, details of our newsletter, club hunts, twice-yearly events, etc., click here.

---
Return to the site contents or the list of club events.