The Armchair Treasure Hunt Club
The Second Unnamed Hunt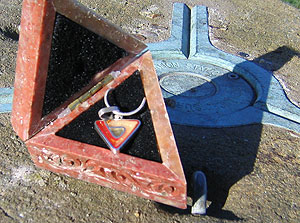 Inspired by Martin Dennett's unnamed, seven-word hunt published in the August 2002 newsletter, which he happened to win, Mike Smith collaborated with Jane Childs and published their own unnamed hunt in the November 2004 issue of the club newsletter.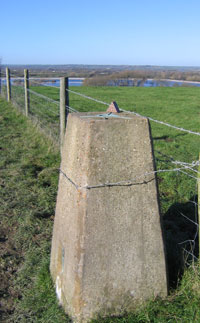 The entire hunt for a buried prize, comprised just three words and a couple of symbols.
Two weeks after hitting doormats, and after a few near misses, club member Clive Weatherley wrapped the hunt up at grid location SP 911 125, at a trig pillar near Tring, Herts. He found a triangular, silver pendant in a triangular onyx box buried in the earth.
Members can review the discussions on this hunt, and its solution on the Club bulletin board. Clive's account of how he discovered the location was published in issue 77 of the Club newsletter.

---
Return to the Club Hunts page or the site contents