The Armchair Treasure Hunt Club
Esters Ransom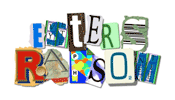 In the Summer 2010 issue of the club newsletterm which hit members doorsteps in June 2010, was en envelope containg the two-page ransom note that forms Craig Jones' official Club Hunt for 2010 - Esters Ransom.
Buried somewhere within England is a slate box containing a beautiful glass trophy that has been carefully etched with the hunt logo. The trophy is patiently waiting to be unearthed by the first club member that can solve the hunt, and will enable the finder to claim a special decorated box and small wooden chest both filled with an assortment of valuable riches and treasures.
Club members can follow the bulletin board discussion here.

The treasure was unearthed by Matt Edwards and Paul Harkin at the end of July 2010. Solution to the hunt can be found here.
---
Return to the Club Hunts page or the site contents